March 11
Take a look at the New Arrivals section. Lots of interesting stuff just about to hot the shop.

---
February 26
A couple of weeks ago we visited Jerzy Drozd at his shop in Barcelona. Jerzy showed us how he works and we could see how he finished an Excellency 5 that is now in our shop. Click here to see the report and click here to see the bass.
---
February 24
Guess what? Yes, new basses. Just in: 2 Sadowsky Metro's and no less than 6 Lakland's (1 Hollowbody fretless, 2 Joe Osborn 5, one 5502 and 2 Darryl Jones 5). Also a brand new Jerzy Drozd plus the new OLP Tony Levin signature. Check them out at the bottom of these page

---
January 30
2 new Lakland 5502 & all the KSD models in stock, including 2 fretless. You'll find them at the bottom of this page.
---
January 20
Christmas has been really busy around here (thanks to all our customers).
We have started 2006 with more than 20 new basses and several amps. check them out bellow.
All the news are now in the News Section (where else?), so this homepage will be cleaner from now on.
December 23
On November 6 we attended the European Bass Day in Viersen, Germany. Read the full report and enjoy!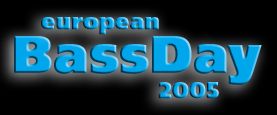 ---
December 13
Lots of new basses. Here's the fist one: a Windmill Jazz style bass with a lot of vintage flavour.

---
November 15
Apart from basses, amps and accessories, now you can also buy CD's and DVD's at Doctorbass.net. Of course, these are all bass related CD's. We have a number of items in stock at all times, but if something is sold out or you cannot see it listed here, just let us know and we'll find it for you (hopefully).

We have started this section with the works by two Spanish bass players: Juan Carlos Mendoza and Charlie Moreno. Check them out!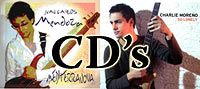 ---
November 14
Just in, and at a very special price: a Warwick Thumb Bass Bolt on 5 string. Great offer on a superb instrument.

---
November 11
We have signed an exclusive dealership for Windmill basses. These instruments are made in Germany and are worning bass player's instruments with some great features and reasonable prices. The range goes from straight passive 4 stringers to acoustic active models with piezo among others. There is a great number of options. We have two 5 string basses now and there is a passive Jazz flying to Spain too. Soon we will be organizing clinics to promote these great instruments. Charlie Moreno is using a signature Windmill bass. serious stuff!
---
November 1
If you check this webstie regularly, you may have noticed that the sections on the left look different. These are images from paintings by Syra Larkin (wife to the Irish luthier Chris Larkin), and of course she has given us permission to use them. We have finished the section on Syra Larkin's paintings. There's more to life than basses..., believe it or not!


---
October 31
We have received the first 3 signature models from Yamaha. Shortly the Billy Sheehan bass will join these.
---

October 30
Click here to read a full review of the great clinic that Nathan East held in Madrid a few days ago.

Click on the bass to see the specs and more pictures.

---
October 8
A shipment of KSD (Ken Smith Design) has just arrived. No less than 9 basses (two 4 string and seven 5 string). We have both the 60's model (sunburst alder body and rosewood fretboard) as well as the 70's (natural swamp ash body and maple fretboard).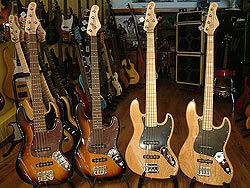 ---
October 4
Lots of new stuff. click on the images to see the details & price.
De Armond Ashbory, Cabezal Yamaha BBT500H + pantalla 4x10", Ibanez SRX300, Warwick FNA 5, NS Design Bass/Cello, EBS HD350 + pantalla 4x10", Heart Art 5, Ampli Sinmarc a válvulas + pantalla 4x10"
---
September 30
A new bass in the shop: a fretless Musicman with matching headstock.

Pino Palladino anyone? Look at the PRICE.

---
September 30
6 Yamaha basses
, and this is just the start. Soon we will receive the rest members of the bass family, including signature models by Nathan East, John Patitucci, Billy Sheehan, etc.



---
September 29
Just in! We have received the 5 string bass that Chris Larkin has built for us.


We can safely say it is the best Larkin bass we've ever had. Click on the image to learn why.


---
September 28
The great Stick player Guillermo Cides came to play closing the 1st International Guitar Festival of Gumiel de Izán (Burgos).
Of course we went, had a ball, and enjoyed some very special moments there.
Click on the picture to read the full story.
---
September 27

Two more Sadowsky
Metro basses are on back order. They will be shipped in Feb 06. You should book one if you want them, because they simply fly. The last one did not last more than a week. Blink and they're gone!
MS5, Natural
R5-24, '59 Burst

---

September 22

From now on, you can find the full line of Yamaha basses at Doctorbass. Not just the budget models, but also the high end and signature basses.
We have received the first 6 basses:
RBX370, RBXJM2, B414, BB415, BB614 & BB 615
.
Full details and description in a few days.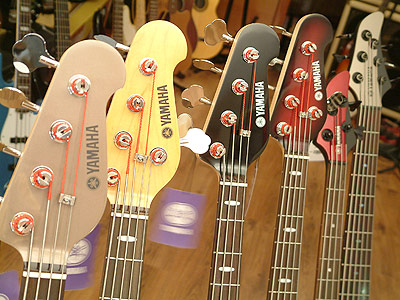 ---
September 15

Nathan East
will hold a clinic in Spain on Oct. 25
Click on the photo for more information.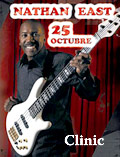 www.yamaha.es
---

September 13

We are thrilled to have received the first pieces of
Epifani Amplification
. High end stuff at a price that won't break your wallet and a weight that won't break your back either. Click on each model to see the specs & price. Serious amps for the working bassist with a sound that has to be heard and many player friendly features.
---
September 13 2005
Just in:
2 Lakland & 1 Sadowsky
. Start the new academic year properly with one of these wonderful 5 stringers!

September 2005
Here they are... The wait is over.
The first
Epifani
amps have arrived.
Keep tuned for more details in a few days.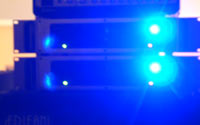 ---
The
Next Arrivals
section has been completely updated. Many new basses are flying towards Doctorbass. We also have a surprise under our hat: we will shortly be receiving the first pieces of the best brand of bass amplification in the world, probably!
---
August 27 2005
We are glad to have master luthier
Chris Larkin
making a new bass for us. It is a 35"scale 5 string with some stunning tonewoods and several special features. This bass is due to arrive in September. In the meantime, you can enjoy the
building process
. Chris will keep sending more photos as he continues working on the bass. This is a unique chance to see how a high end bass is made step by step by one of the masters, and it is almost a live process because we will be uploading new pictures as we get them.
Number of pictures as of 9/8/05:
63-Finished & ready to be shipped to Doctorbass!


Chris enjoying his offspring!
---
August 19 2005
We have used these mid summer days to update our website. There are many exciting new items, so check it out:
- We have a
Stick
. It is a
Bass Stick SB8
, with fitted Roland GK MIDI pickup. Not only can you try it at our shop, but now you can also order a new Stick from us. It is a remarkable instrument, and one that will take you to an amazing musical world if you come with an open mind.

- We are pleased to have received
3 Overwater
basses
(U.K.). These instruments are nor short from extraordinary, and compare well to expensive USA handmade high end basses, only at a fraction of the selling price. We have included a coverage of the
building process
for your viewing pleasure.Click on any bass to see the full details of a particular instrument.
NEW
: we have worked with two luthiers to develop an instrument that had already been invented but needed some impulse to appeal to today's players: the
Nylon String Bass
. You may choose from a long list of options, such as body thickness, number of strings, electronics, etc. The first in this series to be in the shop is a 5 string (high C) with really thick sides, a cutaway and the Fishman Problend system with an undersaddle pickup + internal mic. Made in Spain, of course!

- Just in:
2 Human Base
(Germany), one of them left handed.

- One more new bass: a
Carvin
B4A, with a light swamp ash and a versatile pickup arrangement (MM+ Single Coil)

---

July 11 2005

As promised, you can now check our
prices
online (so far just basses, but amps, effects & accessories will be priced too shortly).
All items are priced at the
maximum discount
we can offer while maintaining our special
pre & after sales service
(click
here
for details).
Prices in the English version do not include sales
taxes
(you will have to add whatever applies in your country).
In the
Deals
section you will find products that are further discounted, be it over-stock, used or ex-demo gear.
---
July 9 2005
We have a created a new section called
"Handmade"
where you will be able to follow the
building process of a bass
, from wood selection to final set up. We'll post new pictures almost everyday, so it is almost a live experience.
The best part is that these basses will be shipped to Doctorbass as soon as they are finished, so you may be witnessing how your next bass is being made.
Click
here
to see the details.
We will start with 3 basses by
Overwater
(U.K.). Doctorbass are the exclusive dealers for those wonderful handmade basses. Chris May, owner and founder, is a really nice guy with a long experience on handmade instruments, multistring & longscale basses.
---
July 6, 2005
As promised, we have started to print the prices of our products. We have started with our latest arrivals: two new Lakland basses: a
5501
and a
Darryl Jones Signature
---
June 27, 2005
Here they are. The first shipment of MTD basses has reached Doctorbass.net. You can read about them in the products section, or at the bottom of this page. Great basses at an affordable price.
June 24 2005
Lakland have confirmed two more basses (a 5502 and a Joe Osborn signature 5). These are due for late July. Remember that two Lakland basses are just about to arrive too. See
Next Arrivals
for details.
---
June 21 2005
Just in: a new Carvin 6 string. Piezo bridge, MM & Single coil pickups, really versatile and easy to play.
LB76P
---
June 20 2005
4 KSD basses
added to the Next Arrivals section. These will allow us to have in stock all the different KSD models. Definitely worth trying.

---
June 17 2005
3 new basses added to the Next Arrivals section, and some interesting pedals
---