The instrument you see here is the world's most affordable EUB (Electric Upright Bass), and it could easily become your next bass. See why:
With a solid maple construction, flawless finish and slim body, this an EUB you can carry around easily in the included gigbag.
The height adjustable bridge allows you to set the strings as high or as low as you like, and the included rubber covered metal pieces that act as position references (body rest and right shoulder for thumb position playing).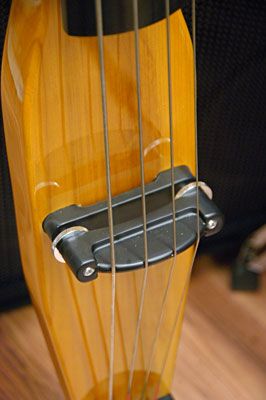 Electronics incude Master Volume and Sub Bass controls (the latter being a Bass control, boost only, that adds a nice low end), but there's more: there's a handy CD/Mp3 input for you to play along tunes, and there's also a headphone output that you can use for private practice.
This is a 3/4 size double bass, which is the most used size, with a 41'3" scale.
The side dots will help you know where you are; they are a big help when you shift positions. The curved fingerboard of course allows you to use a bow as well.
Both if you play electric bass and want to experiment with double bass, or if you are a seasoned upright player who needs an affordable and easy to move EUB for gigs or silent practice, look no further.
To sum up: the most affordable EUB in the market, but with features and qualities that will surprise you.
Stagg EDB 3/4
Stagg EDB 3/4

http://www.staggmusic.com/