KSD= Ken Smith Design
Recreating the magic from the 60's and 70's Vintage Basses, Ken Smith is pleased to introduce the KSD Proto-J series. Drawing on his many years of experience as a studio professional in New York City and as a world class Luthier, Ken Smith designed the Proto-J series to meet the demands of Professional Bassists around the world. Ken incorporated many of the features found on his U.S. Basses into a design that is familiar and recognizable to many Bassists.

This the 5 string fretless model. With an alder body and ebonol fingerboard, this bass delivers a full sound with articulate highs that never become too bright. Tone can be described as deep, punchy and with enough definition to cut through in any situation. With our trademark Doctorbass fretless setup, this bass can deliver Jaco attack as well as that great sweet "mwah" that makes the fretless bass so special. The 35" scale is responsable for a tight and loud low B

Alternatively, we offer the amazing J-Retro 01 Deluxe preamp as an optional upgrade. This top class preamp will not change the sound off the pickups, and will fit right in*, offering more EQ options:

Bass Boost
Treble Boost & Cut + pull for extra Bright
Mid Boost & Cut
Mid freq sweep
Tone Control (works in Passive & Active Modes)
The price of this preamp (installed) is 300€
*Minor routing of the control cavity might be necessary. We offer free instalation of this preamp.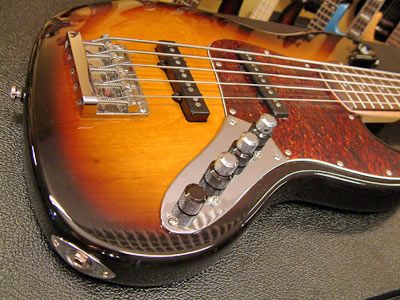 KSD with J-Retro 01 Deluxe preamp installed
KSD Fretless 5
KSD Fretless 5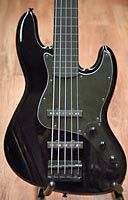 KSD= Ken Smith Design
Ken Smith es reconocido como uno de los mejores luthiers del mundo, y es todo un pionero del bajo. Lleva en activo desde 1978, y es responsable de algunas de las características que hoy consideramos "normales", como los bajos de 6 cuerdas (desde 1981), los de 5 cuerdas de mástil ancho (desde 1983), y un largo etc.

No todo el mundo puede permitirse un Smith en toda regla, así que Ken ha decidido crear esta línea y ofrecer una serie de bajos con unas prestaciones y sonidos muy interesantes y un precio muy asequible. ¿Cómo lo ha conseguido? Ken se ha encargado de todo el diseño y la selección de componentes, y la fabricación se hace en Corea. No dejes que el origen de este instrumento te engañe: en vez de estar hecho en una fábrica enorme donde se hacen la mayoría de instrumentos, Ken ha elegido una pequeña fábrica en la que puede controlar todo el proceso. De hecho, Ken y su equipo se encargan de supervisar y ajustar unos cuantos bajos de cada partida de la serie KSD Design, de modo que se aseguran de que la fábrica está cumpliendo los altísimos requisitos de Ken. Pincha aquí para ver cómo se lleva a cabo este proceso.

En vez de hacer copias de sus propios bajos (pincha aquí y aquí para verlos), Ken ha optado por recrear los mejores Jazz Bass de los 60 y 70, en versiones de 4 y 5 cuerdas, con y sin trastes.
El resultado son bajos con todo el sonido clásico, una quinta cuerda absolutamente impresionante, y un previo de 2 bandas al estilo Marcus Miller.

Este modelo es un 5 cuerdas sin trastes, y tiene un cuerpo de aliso, mástil de arce y diapasón de ebonol con marcas para ayudar en la afinación. Este "mueble" resulta en un sonido con gran cuerpo y redondo, pero además con suficiente definición y factor "mwah" (o sea, llorón).

Mástil de 21 "trastes" y clavijas en disposición 4+1. De nuevo insistimos en que la 5ª cuerda hay que oírla; tiene el mismo volumen y definición que el resto de cuerdas, gracias probablemente a la escala de 35" que mejora la tensión de las cuerdas.
El previo activo incorpora una ecualziación de 2 bandas para darle aún más versatilidad, y se puede conmutar a modo pasivo tirando del volumen, para un sonido más clásico

Si quieres ver el modelo de los 70, pulsa aquí.
---
Opcionalmente ofrecemos la posibilidad de instalar el maravilloso previo J-Retro 01 Deluxe en este bajo. Este previo de altísima calidad no modifica el sonido original de las pastillas, y además de ser un repuesto directo para este tipo de bajos *, también ofrece más posibilidades de EQ:

Realce de Graves
Realce y recorte de Agudos + Brillo extra al tirar del potenciómetro
Realce y recorte de Medios
Barrido de frecuencias medias (medios semiparamétricos)
Control de Tono (funciona tanto en modo Activo como Pasivo)

El precio de este previo (instalado) es de 300€
*Es posible que haya que hacer un pequeño fresado en la zona de los controles para instalar el previo. La instalación en Doctorbass.net es gratuita.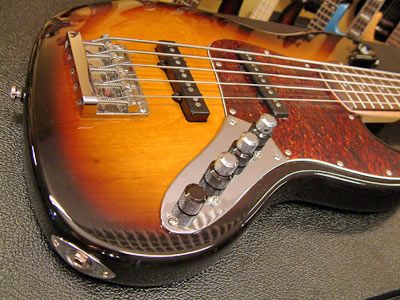 KSD con el previo J-Retro 01 Deluxe instalado
---

http://www.kensmithbasses.com/KSD/KSDdefault.htm