We are proud to let you know about a new young Spanish luthier that is building some serious basses and guitars. His name is Alejandro Ramírez, and comes from sunny Almería in Southern Spain. The name that he has chosen for his brand instruments is o3 instruments.

Alejandro is only 24 years old, but he's been building instruments since he was 16, and has been doing it full time for the last 4 years. Apart from playing guitar and bass, Alejandro always had a passion for instruments and wood, so it was only logical that he started stuying instrument building from an early age, and soon he was making some prototypes for friends. Later on, this became a full time job for him. In the beginning he combined making set ups and repairs for customer while building instruments. These included custom guitars and basses that his custumers designed, but soon Alejandro was ready to start his own personal line of o3 instruments and stay away from copies. In our opinion, this decision is vital if you want to make a carreer out of instrument building.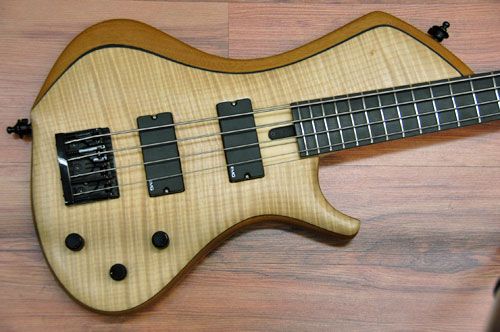 His o3 bases include two models: Singlebass and Doublecut.
The instrument we have here is a Singlebass 4 string, and we have to say we are impressed.
Designing a new shape for an instrument is never easy, but if it is a Single Cutaway model, then it's even more difficult. True, the singlecut has a lot of sonic advantages because the neck and the body make more contact to each other as in tradicional designs (more sustain), but it is not easy finding a desing that pleases the eye aesthetically, and we feel some of them look a little exagerated.
First impressions are important when you see a new bass (this usually makes to want to try the bass or not), and when you see this bass there's something about it that really invites you to play it. This is a subjective thing of course, but we just love this shaping.
The neck joins the body using the Deep Set Neck method, which consists of setting the neck deep in the body and then glueing it up. This has the effect of accentuating the sustain even more, and also makes the neck very stable.

The body is made from a species of mahogany that is nice lookig and also moderate in weight, so you get a medium.low weight instrument. Alejandro chose a gorgeous flamed maple piece for the top (one of the best we've seen lately). The neck is made from a 5 piece laminate of maple and has grahite bars inside for extra strenght. This allows the luthier to make a neck that is stable but also slim and comfortable. Of course, the truss rod a two way unit, allowing you to adjust the neck accordingly. The ebony board has 24 frets and has been left intentionally plain with no position markers. The player has enough reference using the nice side block inlays located at the usual fret positions.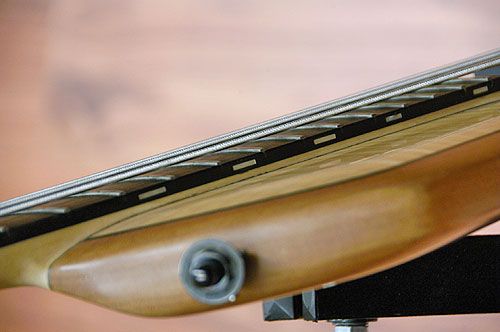 When you build a bass like this, you only go for the best parts. All the hardware is from Schaller, and electroncis come from EMG, with a set of 35DC humbuckers and a simple but effective control layout: two volumens and one VMC (Variable Mid Control) that is a semi parametric Mid cut/boost.
You may like or not EMG pickups, but in this case we really think they match the bass perfectly. The wood and costruction put out plenty of sustain and warmth, and the EMG's provide the extra touch of high end detail and punch. the result is a bass with the attack of a bolt-on and the sutain of a neck through. Could you ask for more?
The combination of a lightweight body, slim neck, low action, matt finish and great sound make this bass irresistible.
If this bass had a big name on the headstock it could be sold for much more, so here's a great chance for you to buy a professional bass that also looks elegant and distinctive for a very fair price.
NOTE: this is just the first instrument we have received, but sure won't be the last. Actually, we will be offering more o3 basses in 2008. We are pleased to include o3 basses in the list of basses we offer. There are also 5 & 6 string versions, as well as fretless. You will be able to buy the basses you see here but also place a custom order for a bass with some variations to suit your needs. Just contact us for a quote on price and delivery.

Congratulations Alejandro!
o3 Singlebass
o3 Singlebass

http://o3custom.com/