Jerzy Drozd Basic 5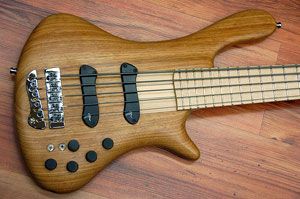 This is a great bas from Polish luthier Jerzy Drozd.
Jerzy is now based in Barcelona, and along with a small team of carftsmen, they build some of the most sought after basses in the world.
This is a "Basic" model, one of the most affordable in Jerzy's catalogue. It is a bolt on, but the neck actually extends up to the neck pickup.
The neck is joined to the body using 7 bolts. Every aspect of this bass is designed for the most confortable playing experience ever. The small and ergonomic body rests easily on your lap, and the extended upper horn reaches out until the 12th fret, so the bass balances perfectly with a strap and your left arm does not have to stretch as in some other small bodied bass with shorter upper horns.
The body is made from etimoe and there is a matching headstock. The maple neck sports a beautiful piece of maple for the fingerboard.
The pickups might look unnusual, and that's because they are unnusual. Jerzy makes his own pickups in house in order to make sure that he can control every aspect of the bass from wood selection to the final sound. The pickups are quite flat sounding (these are single coil), and will just reproduce what the bass is doing acoustically, which makes perfect sense in a bass like this. There's a familiar Jazz Bass type of sound to them, with neough midrange to cut through. Actually, the brdge pick is one of the best we've heard if this type. The onboard Aguilar OBP-3 3 band preamp is powerful enough to make the bass cover any style you might need. Two miniswitches control active/passive operation, as well as midrange selection (400/800 Hz).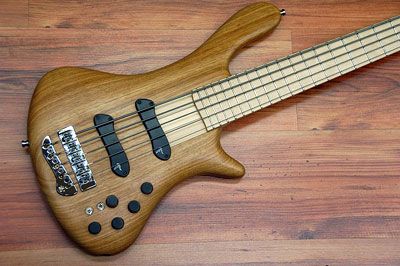 This bass produces a direct and aggresive sound thanks to the bolt-on construction and lack of top, but this does not mean it lacks bottom end. Quite the opposite; you can go from a tradicional quasi Fender tone to a more extreme one that will fit right in with the most demanding modern music.
The pickps are also an excellent thumb rest.
As always, this bass has one of the best low B's in the market: strong, loud and clear. This is in part thanks to the 35" scale, but also due to Jerzy's expertise on ERB's (Extended Range Basses)
Jerzy Drozd Basic 5
Jerzy Drozd Basic 5

http://www.jerzydrozdbasses.com/
COMENTARIOS
28 de agosto de 2009
Esther Colero
Hola Joaquín.
Estuve el otro día en tu tienda, y pude probar este pedazo bajo, y quedé muy impresionada con el sonido tan contundente que tiene.
En cuanto consiga convencer a mi novio, te llamo para pedirte uno.
adios
28 de agosto de 2009
Ramón Tañas
Los armónicos que saca este bajo con cuerdas downing son excepcionales.
También te puede interesar