Here's a new and interesting bass from Dean called "Pace", and it comes to fill in a hole in the market, especially in the budget range.
This is a bass intended to be played in vertical position just like a double bass (although tthe included stand allows you to set it in a horizontal fashion as well if so you wish) but with a familar 35" scale just like an electric bass. The idea is offer electric players the chance to experiment with an upright instrument for occasional use. The low price makes it possible to add it to your arsenal of basses and we can assure you it will give you plenty of great moments for the money!
In order to keep the price low, Dean has chosen to keep the design simple but effective, and we couldn't agree more. The electric bass type bridge houses 4 piezo loaded saddles, and there's just a Master Volume. Because of the piezo's nature, you get a full frequency response sound, so if you want to get a more traditional tone, just remove the high end in your amp and you'll be good to go. Of course, adding an external preamp will also help, especially if it has some EQ options.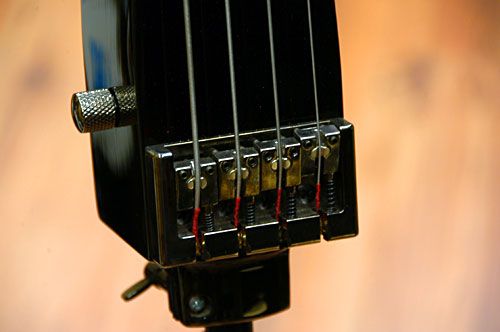 The fingerboard has only the lightest curvature (6"), so it is not initially intended for bow use, but you will fell that your hand feels immediately comfortable.
The side dots will help you play in tune, and in fact you'll discover how easy it is to play upright-like lines effortlessly.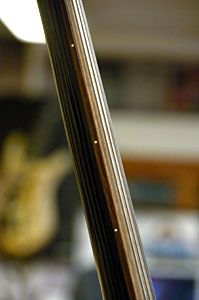 As noted above, the smart stand allows for a varietey of set ups, so you can go from a standard upright to horizontal or anything in between in 2 seconds. Of course you can leave the Pace on its stand ready to be played, so you can switch from electric bass to upright even in the middle of a song.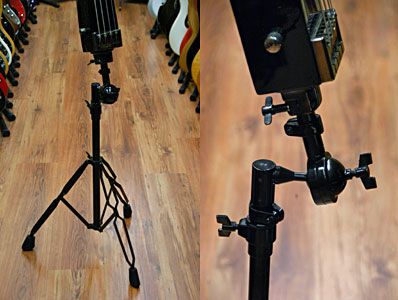 The fact that the instrument is small and the stand is foldable means that moving the Pace around is a breeze.

This is a true Neck-Through bass, as a single piece of maple runs all the way from the slotted headstock to the bridge.
Dean Pace
Dean Pace

http://www.deanguitars.com