FODERA MONARCH BOLT-ON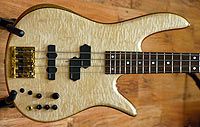 From their shop in Brooklyn, New York, Vinnie Fodera and Joey Lauricella have been making some of the best basses in the world for the last 25 years. When they started as a brand back in 1983 Joey spotted a young bassist with an amazing technique and musiciansip that was in need of a better instrument. They saw Vic's potential and decided to loan him a bass that he could pay little by little. That instrument became Victor's tool to develop his amazing technique, and he has been using it extensively for the last 25 years (and still uses it).

We were lucky enough to attend the Fodera Anniversary party in L.A. in January 2008. Victor Wooten played a soulful set (with a Spanish drummer girl!) and showed his beaten up '83 Monarch bass.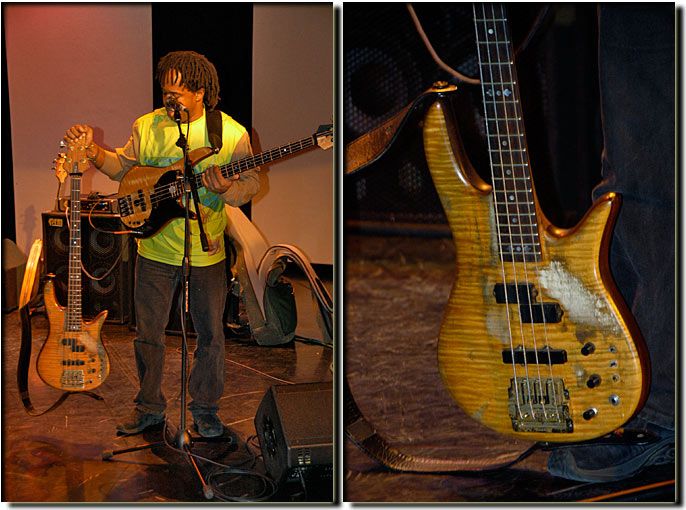 The bass you see here is a Monarch Bolt-On, and it is quite similar to the Victor Wooten Classic except it is a bolt-on and has a smaller headstock.
The mahogany body has a gorgeous 5A flamed maple top, and the 3 piece rock maple neck comes with an impressive piece of Indian rosewood for the fingerboard.
Electronics are EMG P/J set plus Pope 3 band preamp with added passive tone and On-Off plus Active/Passive switches.
This is one of these cases where the whole is greater than the sum of the parts. The sound of this bass is almost identical to the Victor Wooten Classic model, with deep but clear lows, warm midrange and sweet treble. Play any Victor Wooten line and you'll be in heaven.
Use any technique you can think of and you'll check for yourself that the bass performs effortlessly and just sounds amazing. Dynamics are incredible, so you can go to whisper-like playing to really heavi hitting, and the bass will just reproduce that perfect. This is not a bass you have to fight against; quite the oppositte: it seems to play for you. Now, that's inspiring!

Here are some interesting links
http://www.victorwooten.com/
http://www.flecktones.com/
Specs:
Type of construction: bolt-on neck.
Scale: 34"
Frets: 24 (jumbo type)
Body: Mahogany

Top: Quilted Maple

Neck: 3 piece hardmaple
Fingerboard: Indian rosewood

Headstock: matching
Finish: satin, transparent
Tuners: Gotoh
Bridge: Fodera NL
Pickups: EMG P/J

Circuit: Fodera/Mike Pope 3 band with Active/Passive and On/Off switches.
This bass has been used for a short period of time, but is in absolute pristine condition (no difference with a new instrument). Save 2000€ and the long wait list.

Fodera Monarch Bolt-on
Fodera Monarch Bolt-on

http://www.fodera.com/