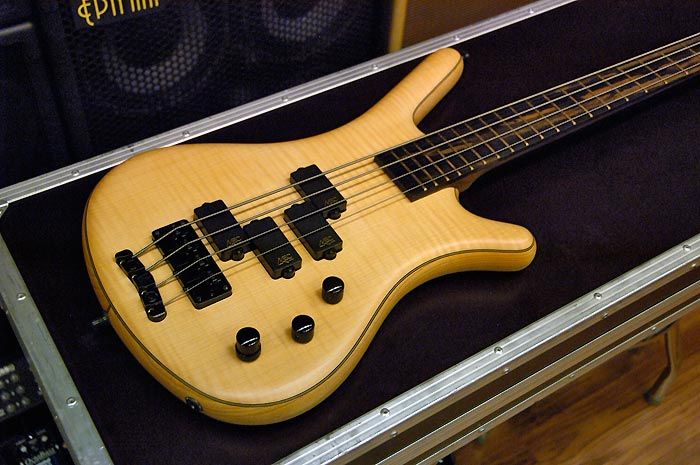 Right after the succesful series of Felines and Dragons, here we have the brand new Warwick Corvette Standard SE Backline, both in 4 & 5 string versions


For this special edition, the Corvette Standard was newly designed with extra selected tone-woods.
The body of light American Swamp Ash has been combined with a 3/8" thick AAA Flamed Maple top.
The bolt-on Ovangkol neck boasts a 24-fret Tigerstripe Ebony fingerboard.
The contrast between the black hardware, the black pickups, the dark fingerboard and the bright wood of the body gives each instrument an extravagant and elegant look.
The tone is translated via active MEC P/P Mirror pickups controlled by an active MEC 2-band electronics.

Specs at a glance:
Bolt-on
3/8" AAA Flamed Maple / Swamp Ash
Ovangkol neck
tigerstripe Ebony fingerboard
4-string and 5-string available
scale length: 34"
24 jumbo frets
Active MEC P/P Mirror pickups
Active MEC 2-way electronic
Natural Satin Finish
Warwick bass machine heads
Warwick 2-piece bridge
Just A Nut III
Warwick security locks
black hardware
___________
The neck pickup comes in the traditional "Split" arrangement (1st & 2nd strings closer to the bridge, 3rd & 4th closer to the neck), originally designed for deep lows and clear highs and that's exactly what it sounds like. You get a powerful thump that is rich in low mids and also has excellent treble detail, especially with a pick.
The bridge split pickup, on the other hand, has the opposite arrangement, which has the effect of offerting tighter lows and sweeter highs. ¡Perfect!
When both pickups are mixed 50/50 (they are wired in parallel), you get a slightly scopped tone with great definition, attack and body.
This is actually one of the punchiest Warwick's we've ever played. No matter if you play fingerstyle, use a pick or are a dedicated slapper: this bass delivers.
The onboard 2 Band EQ really complements the active pickups. By pulling the Vol pot you can bypass the preamp if you want to hear the direct sound of the pickups.
Of course the bass comes with the rest of Warwick's goodies, such as separate bridge/tailpiece, natural oil finish, Just-a-Nut III nut, straplocks, heavyly padded gigbag.

Don't miss the chance of owning a limited edition series bass that sounds and plays amazing.
Warwick Corvette Special Edition 4 Natural (Made in Germany)
Warwick Corvette Special Edition 4 Natural (Made in Germany)

http://www.warwick.de