Lakland Hollowbody (fretless)

A bass with great personality.

The Lakland Skyline Hollowbody is inspired by the design collaboration of master bass guitar builder, Michael Tobias and our staff in Chicago. So much so, in fact, that the two instruments share almost exactly the same specifications. The Skyline Hollowbody features the same two-piece construction as our U.S.-Made model, which is favored by bassist Tony Garnier (Bob Dylan).

This mid-priced version of the Hollowbody has a rosewood fingerboard and the same cavity dimensions as the high-end version — giving it a similarly thick and rich tone with fantastic definition. The natural tone of the instrument is complemented by a set of Bartolini humbuckers designed specifically for Lakland.

The Skyline Hollowbody has an elegant appearance. An F-hole on the upper half of the bass suggests the instruments heritage in acoustic instruments of refined quality and function, while its sound is as versatile as modern music demands! Dial in a wide array of sounds using independent controls for volume and tone and a three-way toggle to combine pickups or solo the neck or bridge humbuckers.

From deep, authoritative notes reminiscent of an upright to aggressive and throaty sounds capable of cutting through as a solo voice, the Hollowbody is responsive, with a solid tonal center that many hollow basses lack.

The headstock of our Skyline Hollowbody is a 2x2 layout and emblazoned with a Lakland logo unique to our hollow instruments.

Hardshell case included.

For a Bass Player Magazine review of the Lakland Hollowbody Bass, click here
Click here to see the fretted version of this bass.
Twin Hollowbodies: fretless on the left, fretted on the right.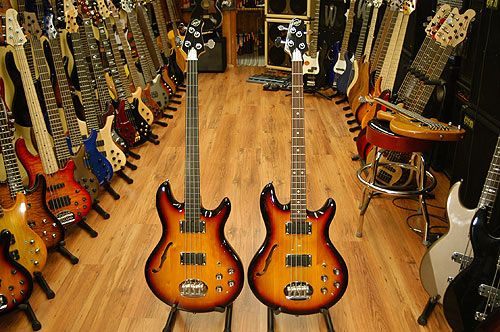 Lakland Hollowbody FRETLESS
Lakland Hollowbody FRETLESS

http://www.lakland.com/