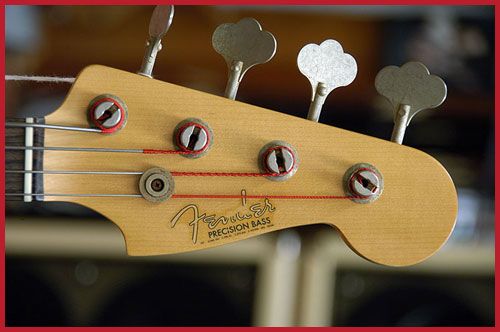 Pino Palladino's singing lines on his '79 fretless Musicman bass on records by Paul Young, Chris de Burgh and others granted him a place among the best bassists in the world back in the 80's. But if you check his impressive list of recordings you'll be amazed at the amount of top hits he played in. For some of these hits, Pino used his beloved '62 Fender Precison bass strung with flatwounds to yield a smooth and fat tone that fitted the tracks perfectly.
When the Fender Custom Shop approached this Welsh bassist to build his signature bass, he asked them to build a replica of that '62 P bass of his, from the Red Fiesta (over Desert Sand) colour, reverse tuning gear, vintage split pickup, down to cosmetic details such as aged parts. The idea was simple: produce a bass that resembled Pino's own bass down to the smallest detail in terms of looks, feel and sound.
Did Fender did their homework? You bet!!
Some of Palladino's latest works include gigs and recordings with Eric Clapton, Paul Simon and The Who. You can check the details at: http://www.pinopalladino.com/
Let's get to the bass itself: it is built with a very lightweight alder body, and comes with a "C" shaped maple neck with Indian rosewood fingerboard. The Relic finish that the Custom Shop has applied to this bass is nothing short of amazing. Apart from the usual dings and scratches, all the metal parts are oxidized, and the plastic parts have been properly aged. Relic finish are a great conversation topics, but even if you find that this process is unnecessary, a whim, or plain stupid, let us tell you something: there's something psychological about it when you hold the bass. You feel instantly comfortable with it, as you would with a nice pair of old jeans. The worn out neck has to be played to be believed. If you've ever played a bass from the 60's that has been extensively played since it was built, youpll know what we are talking about. The vintage (thin) frets make playing up and down the neck really easy (almost feels like a fretless).
The Thomastik flat strings are just PERFECT for this instrument. Some flats have a sticky feel to them, but these Thomastiks are as smooth as they come. Of course, they deliver a vintage warm sound that is just addictive. Fingerstyle you are rewarded with a sound that seems to come straight from old Vynyl soul records (think Jamerson and any Motown hit), but the real surprise comes when you use a pick. If you don't use a pick because you hate that bright aggressive tone, you have to try this. The attack from the pick softens when it hits the flatwounds, so the sound is full and warm, with plenty of note separation. Even slap technique sounds incredibly well, serious!!
There seems to be a psychological effect when you strap this bass on. It really looks like and old beaten instrument that has been used in hundreds of gigs. Of course, we'd all like to bump into a real Precision from the 60's and find it in good state and for a fair price, but that is almost impossible today. First, chances are the instrument may not be 100% original or maybe it has some serious neck issues. Secondly, the instrument will probably be overpriced due to collectors who have been buying these basses just to speculate with its value. This makes these instruments real collector's items rather than player's instruments. Sad but true.
That's why this bass is a serious alternative. You get a bass with a lot of mojo, great comfort, amazing sound, no neck or fret issues, and you are paying a fair price for it.

The sound of this bass can be described as genuinely vintage and classic. The split pickup has a surprising hot output, even more than many active basses (this proves that the Active/Passive sign you fin on most amps is just a convention). If you think that a Precision is a bass with one single sound, you'll be surprised when you play this beauty, as the lightest change in playing technique seems to yield different results. Of course, you will get that big Precision thump that these basses are famous for. Just think of those records by Motown and Stax, with bassists James Jamerson or Donlad "Duck" Dunn, and you'll get an idea what this bass sounds like.
Not only will fingerstyle lines sound warm and full; you also get one of the best pcik sounds we'ver heard from ages, and even if using a plectrum is not your thing, you'll realize you can't put it down. It is as if this bass instantly boost a creative side of you that was hidden somewhere. We think this is beacuse we've all heard hundreds of classic records with simple and great bass lines, and this bass sounds so authentic, it makes playing those lines almost an unconscious experience.

But there's more: play some classic slap lines and you'll be rewarded with a warm and organic sound that never becomes bright.
Those great Thomastik flatwounds (43-104) are as smooth as they come, and the deep sound you get from them really suits this bass.
Fender Pino Palladino P Bass
Fender Pino Palladino P Bass

www.fender.com